IN MEMORY OF FRIEDA ARTMANN-CASIRER

This site was donated by
Dan
and
David Casirer
in memory of their mother,
Frieda Artmann Casirer
, a member and the treasurer of
ESCA
, who suddenly passed away at Rosh Hashana Tasha"s, October 1st 2000.
Frieda's Story
Written by
Clara Artmann-Klener
and
Prof.
Julien Klener
Frieda
was born in 1938 in
Antwerp (Belgium)
, as the eldest daughter of
Rachel Stern
(born in Petrova, Rumania) and
Selig Artmann
(born in Hanover, Germany).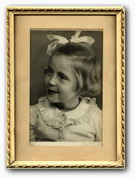 Their happiness was short lived, as horrific events struck the Jewish people living on the European continent.
Young Frieda became a hidden child, adopted by a childless couple living in a small village called
Champs-des-Sars
, near
Mons
in Southern Belgium.
Her new parents, Papa Robert and Maman Fernande, were overjoyed to raise the cute and gifted little girl.
The profound, deep bond between Frieda and her foster parents was so intense that when her real father came to take her home after the war, little Frieda did not want to follow him. They decided not to shock her psychologically and so she stayed a few extra months with Papa Robert and Maman Fernande. As a child she spent all her vacations with them. After Frieda moved to Israel, she visited them every time she travelled to Belgium.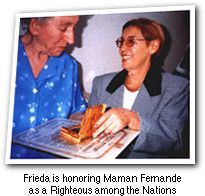 In June 2000, 3 months before Frieda's passing away, we visited Maman Fernande (Papa Robert had died some years earlier), together with 2 representatives of the Israeli Embassy in Belgium, in order to deliver her the
Yad Vashem
Medal as a
Righteous Among the Nations
. On this occasion, one could notice how many of Frieda's photos were still displayed everywhere, how her toys were cherished as relics and how the piano on which she learned to play whilst hidden, was still standing on the same spot. On that very occasion Frieda played for the audience (all the neighbors were present) Beethoven's "Fur Elise". This was a very emotional moment.
Frieda's parents lived in Antwerp and had two other children, a son,
Charles
, (born in 1942) and another daughter,
Clara
, (born in 1947). Frieda's parents were hardworking people. Frieda, as the eldest of the children, played the role of educator, nurse and mentor for her brother and sister. She went to primary and secondary school in Antwerp and was a very good student, not only at school, but also at the Music Academy, where she was awarded a number of first prizes for her piano playing.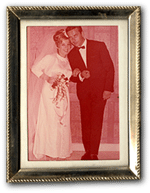 Sadly enough, this brilliant student did not get a chance to go to college, because her parents needed all the extra income they could get. Frieda went to work as a secretary and never ever complained.
In 1967, during the
Six Day War
, she left, together with a group of young men and women from Antwerp, to
Eretz Israel
for a 3-month stay, but she decided to settle in the country and found a job in
Tel-Aviv
at Alda (Koor).
Soon afterwards she met her husband,
Meir Casirer
, and they had two children,
Dudy
and
Dany
.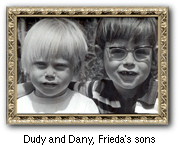 The couple settled in
Ashdod
. Meir established his own business and worked together with Frieda. Although times were difficult, it looked like things were starting to change when a major calamity hit the family. In 1986 Meir was diagnosed with lung cancer. After two years of struggling, his body gave up. He passed away in 1988 leaving Frieda devastated, a widow with two teenage children, 15 and 17 years old.
With tremendous spirit, Frieda picked up the pieces and started her life again. She went through rough times, especially when her two boys went into the army so close together. Through hard work, she earned enough to support her sons during their academic studies.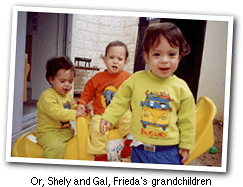 She lived to see her first son, Dudy, get married to his sweetheart,
Anat
. But although she knew about the triplets her daughter-in-law was carrying, a cruel twist of fate set in. She suddenly passed away 2 months before her grandchildren were born.
Her granddaughter,
Shely
, is named after her.
A year later, her second son, Dany, married his girlfriend
Einav
. Their daughter,
Ophir
, got her name from a combination of the names
Frieda
and
Meir
. They also have a boy,
Adi
.
MY MOTHER
Those of you, who knew my mother, probably remember her as "not a tall" person. She never was tall and as the years passed she seemed to shrink more with the burdens of life.

But those, who took a closer look, could see the broad shoulders and the amazing ability to carry the heavy load of a difficult life. Those, who know her life story, know about the hardships of her childhood in the shadow of World War II, of living with a fake identity, of being torn away from her parents, the hard work and constant shortages, immigration to a difficult country, the death of her beloved husband, having to raise two children almost all alone, and always providing welfare and security to her family.

There are many people with similar life stories. They are not rare. What made her so special is the fact she never complained. She never asked why all this happened to her. Maybe she did ask, but only to herself. My brother Dany, and I never heard her complain. She tried never to burden us with her life's hardships. On the contrary, her life-long battle gave us the security we needed for our future.

Our mother was short in stature but her presence was huge. She walked along life's bumpy road, always smoothing the way for us. She had a big soul and she has left us now with emptiness. An emptiness that grows and grows with the years. An emptiness that we will never be able to fill.
David Casirer


We would like to thank Shari Wright-Pilo for her help by editing this letter.