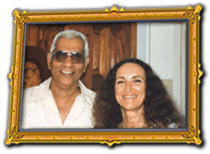 Anita Raymond is a baby boomer from Paterson, New Jersey, who has been having fun in the sun the Israeli way for over thirty years. She first arrived here in 1971, starting her career as a biochemical technologist and winding up as – what else? – an English teacher.
She has been married to Asher (also known as Roy), who hails from Bombay, since 1972.
Now semi-retired, Anita devotes her time to playing the piano, organ and guitar, keeping fit. And if that is not enough, she also finds the time to knit beautiful clothes for Yotam, the new grandson, writing songs for ESCA meetings and for helping to put out the ESCA bulletin. What would we be without Anita!
---
A word from the Webmaster
Since one and a half year I've been updating this site, I usually ask Anita (as part of her role in the Internet Committee of ESCA) to go over the site and double check me for any mistakes or malfunctions. Every time she finishes the checking, she sends me an email complimenting me on the job. It's never the same compliment. She always has something new and nice to say. But I'm saying, that without Anita (and Chana), this site would be nothing but nice graphics. Keeping it up to date, the hard work of gathering the materials, editing it and preparing it for the newsletter and the site, is no less hard work than what i'm doing. So, Anita, this is a team effort, and having this site that we are all proud of, is not only my hard work, its also yours. All the compliments goes to you too, I salute you and proud to work (voluntarily) with you!
 
Yours,
David Casirer