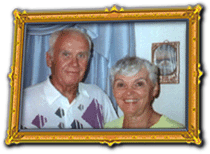 Those featured members were among the very first members of ESCA, and Lolly was instrumental in founding the club.
Lolly and Bob now reside in Texas, and wish you all "Shalom" from there.
They came to Israel to await the Messiah's arrival. They migrated to Ashdod to enjoy the Mediterranean Sea, with a suitcase full of puppets among their possessions. Lolly volunteered to put on a puppet show for children at Matnas Daled, and there she met Chana Hochstein, our present Chairperson. Lolly calls this meeting "a divine appointment." While Bob worked at the Ashdod library and volunteered at the high school with conversational English, Lolly and Chana began puppet performances at the library, at schools, ganim, moshavim etc.
ESCA began growing from a nucleus of twenty – five "Anglo-Saxons" who met at the Canada House in the Spring of 1983. It was Lolly who initiated the idea of establishing a permanent group for English speaking people in Ashdod, to provide them with a social and cultural framework.
The first official meeting was held around a bonfire, and later there was a beach party and puppet show.
In Lolly's words, "Ashdod today is no longer 'just a port city' but can compete with Tel Aviv for culture, social events and genuine fun." We owe our existence in part to the energy and drive that Lolly put into forming the club, thereby building the beginnings of a social network that would expand into today's group.
Since this writing Lolly and Bob passed away.