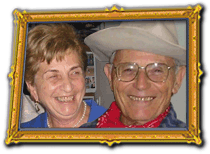 These two, Ruth and Avraham Schwadron, are among our most veteran members – true "chalutzim". Ruth came to Israel in 1948 from Philadelphia, PA. after training for the hard life in the Israel of those days. Avraham also underwent preparations before leaving the Bronx, New York in 1949. Married since March, 1949, they raised their children in Kvutzat Hasollelim until moving to Ashdod in 1961.
Ruth and Avraham have given the meaning of "retirement" a new dimension. They are rarely to be found relaxing. Both can be found most mornings at a local swimming pool, doing laps and keeping fit. They volunteer for many programs in town and are a familiar fixture in the volunteer community. When they find time for themselves they enjoy traveling, studying new things and finding new challenges. We're proud to have them in our group.
Since this writing Ruth passed away.